Summer School 2022:
Get Van Gogh-ing and sign up for KOBILS Summer School!
Fri July 22- Thu Aug 4
(Monday – Friday: 10 days)
Sign up for Summer School at KOBILS! 
Summer School sign-up is on! Join us for lots of learning, and lots of fun in our English immersion environment as we learn about current and historical artists and sculptors, and create amazing works of art to go alongside. We welcome all KOBILS students aged 3-12 and a limited number of external students in K2-G6 who speak English well.
OUTDOOR ACTIVITIES
Fun and learning will also happen outside the classroom too, with swimming (if Corona allows), hiking, a field trip to Otsuka Art Museum and we'll see the whirlpools too, a visit to the farm, and team building activities.
RESEARCH LAPBOOKS
Research and learning will be displayed in beautiful lapbooks created by the children which include study notes, arts and crafts, and mini-reports. We'll learn about Japanese and international artists, and virtually visit art galleries around the world from the Louvre in Paris to the Afriart Gallery in Uganda.
OLDER KIDS BBQ / ONLINE SHOW FOR PARENTS
The BBQ will be fired up on the last evening for elementary age children (no sleepover this year). The younger kids will delight in a lunchtime sandwich party. We'll share our learning and activities in an online movie at the end of Summer School!
GREAT STUDENT/TEACHER RATIO
With so many qualified teachers and assistant staff on hand to guide the learning, there will be plenty of support for everyone!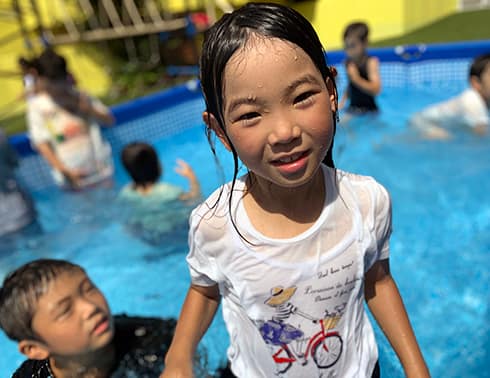 FEES
¥60,000 (Kindergarten KOBILS students; deducted as usual)
¥66,000 + tax (Kindergarten external students, KOBILS G1-6 students)
¥70,000 + tax (External elementary age children)
Fees include all activities: one day lunch for Kindergarten or BBQ for older children; one lunch (swimming day).
Application deadline: June 30 (Wed)
(or when Summer School is full; priority to KOBILS students)
Interviews needed for external students.
(Interview fee: ¥5,000)
For more information or registration,
please call 078-742-7101.