About KOBILS

Bilingualism in Japan
KOBILS stands for Kobe Bilingual School and reflects our desire to create an English school that encourages English/Japanese bilingualism among children in Japan. We provide courses for Japanese children who are growing up in Japan and whose parents have a wish for them to be bilingual, for returnees who have lived in an English speaking country and are returning to Japan, for graduates of other international schools, and for mixed race and native English speakers. While the majority of courses are immersion English courses, we also provide Japanese classes in our full-time courses and for native English speakers who want to improve their Japanese. Our programs cater to children and young people from age 0-18.
Loving Learning
In addition to promoting bilingualism, we also encourage children to enjoy learning. If children enjoy learning, believe they are good at it, and know how to do it, they will become successful lifetime learners. KOBILS helps your child make maximum progress by providing courses at their level regardless of their age, and encouraging progress, self-assessment and goal setting. That's why we say at KOBILS, children can enjoy "lots of learning, lots of fun".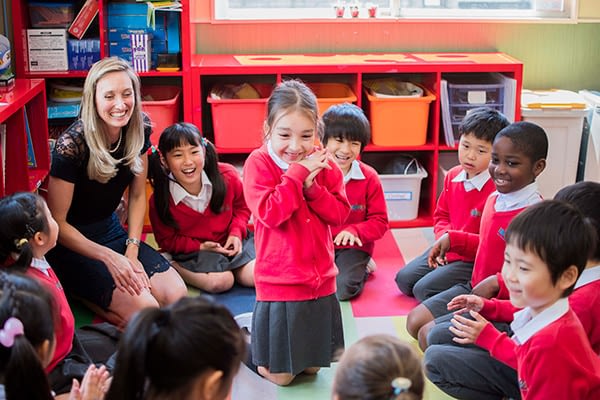 Becoming SKILL-ful: Strong, Kind, Independent, Lifelong Learners
We want KOBILS children to be SKILL-ful. KOBILS fosters the qualities of Strength, Kindness, Inquisitiveness and Independence, and Lifelong Learning. By focussing on these qualities, we believe children become ready for all that life throws at them. Children and teachers work together to make positive learning goals and think about the steps they need to take to achieve those goals. Children are encouraged to ask why and to want to gain more knowledge throughout their lives, whilst always being considerate of those around them.
Teacher owned
Janina Tubby is the owner, principal and director of KOBILS. She has two bilingual children of her own. Her children "walk the talk" and are balanced happy bilinguals of English and Japanese, with strong speaking reading and writing skills in both languages. Janina has a CELTA and DELTA (Cambridge University certificates and diplomas in Teaching English) and has trained other teachers for the distance DELTA too. She has followed masters courses in applied linguistics and is currently studying for a Masters degree in Educational Management. She has been teaching in Japan for more than 20 years and before starting KOBILS taught at preschool, language school, corporation, medical school, and university. She has volunteered at the local elementary school and taught at Kozukayama hoikuen too, and is a previous Assistant Board Chair at Marist Brothers International School. In her free time she enjoys running, cycling and reading. Janina keeps busy and enjoys life!
KOBILS History
2005 Janina Tubby started EnglishDream as an English conversation school, with special classes for fluent English speaking children aged 5 and above.
2008 Demand for courses from parents of children who already spoke English well, plus parents of younger children who wanted an English immersion kindergarten/international preschool led to us changing our name to Kobe Bilingual School and opening in Momoyamadai. We welcomed our first 3 and 4 year old children to our full-time kindergarten for the first time, and offered afterschool and Saturday classes for fluent and bilingual elementary school children.
2011 KOBILS started junior high classes for graduates of our elementary school program.
2012 KOBILS opened a separate preschool class for children aged 2-3 and moved the kindergarten to a separate location in Momoyamadai.
2014 KOBILS moved the kindergarten program to a larger more beautiful location at Aza Takamaru, in Higashi Tarumi and consolidated other programs at Momoyamadai-1.
2015 KOBILS opened a daycare or "shoukibo hoikuen" at Momoyamadai-1 for young children aged 0-3 with Kobe City. The main language is Japanese but we also offer English circle time. KOBILS opened Momo Annex as a separate preschool classroom.
2016 KOBILS opened the Momo Park building and moved all elementary afterschool and Saturday classes there.
2017 KOBILS opened KOBILS Primary at Momo Park as a bilingual school. Classes are offered in English and Japanese with children aiming at full bilingualism and biliteracy. Japanese as a second language was added to the program for monolingual English children who are aiming at bilingualism in Japanese and English.
2019 KOBILS opened its new Elementary building in Momoyamadai 7-chome.