Saturday School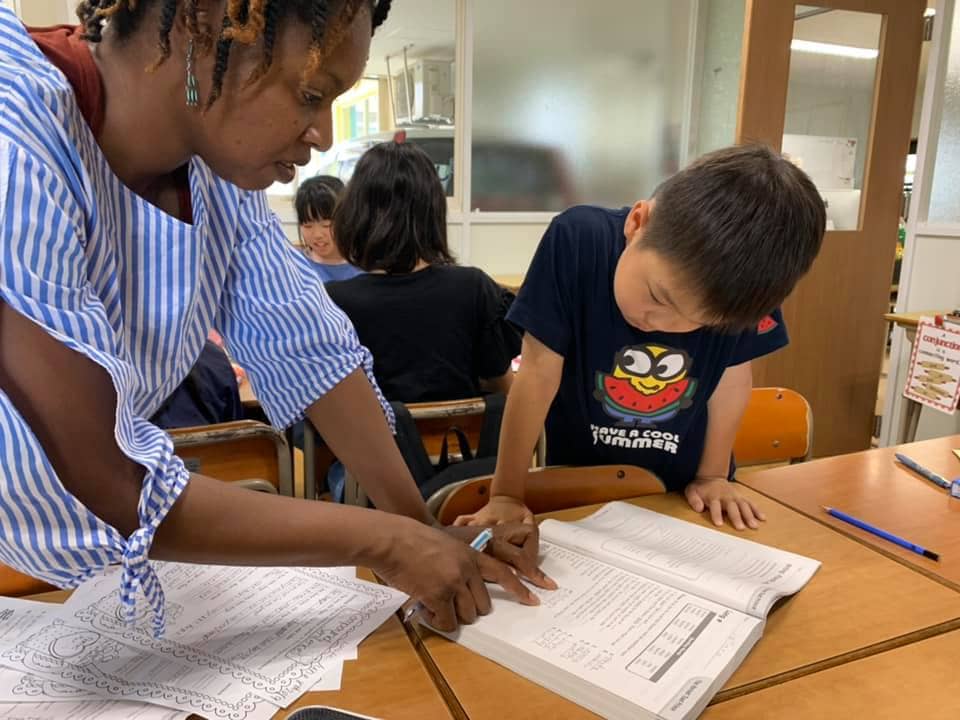 Bilingual, fluent or native English speaker? International kindergarten graduate born in Japan, returnee, native speaker or mixed race family who speak English at home?
Join us for Saturday School where we mix a strong academic program with lots of social opportunities and activities to create a healthy balance of academic success and opportunities to use English naturally for communication and play.
Why Choose KOBILS International Program?
KOBILS provides an alternative to international school allowing children to build strong English speaking, reading and writing skills while learning Kanji and Japanese in their full-time, regular schooling.
Native course materials
We use US and British Language Arts course books for Saturday morning class, run a Project and Science program on Saturday afternoon, and offer ESL or specific skills classes during the week.
Placement in level appropriate classes
Children are placed in classes with other children of the same academic level and are able to move between classes at any time. This means your child is always being taught at the right level for them and is always suitably challenged in class.
Experienced, full-time native teachers
All classes are taught by our full-time native English teachers from England, the US, Australia, and the Philippines, who are trained and licensed teachers, and/or skilled and experienced with working with children of this age group, and often bilingual too. All our teachers are motivated and excited about working with our children and strive to maintain a fun and stimulating learning environment.
English Immersion
We provide an immersion environment where children use English naturally and cooperatively both with the teacher and among themselves during class and outside activities without enforcement by the teacher. So native speakers can feel relaxed and Japanese children get a chance to use English for peer interaction and real communication. This really works and a unique feature of our program is the cooperative nature of children's English usage when teachers are present and when they are not!
Termly Fun Days, parties, events and trips. Summer school too!
Every term we have a one day Fun Day where we don't study at school but take a field trip instead. We've been hiking at Nunobiki Falls, bowling, to the science museum in Osaka, to Marist International School's International Food Festival, and other places of interest, again encouraging children to use English for real communication, not just for study. Of course we have Halloween parties, Christmas parties and other events, and our Summer School is always over-subscribed.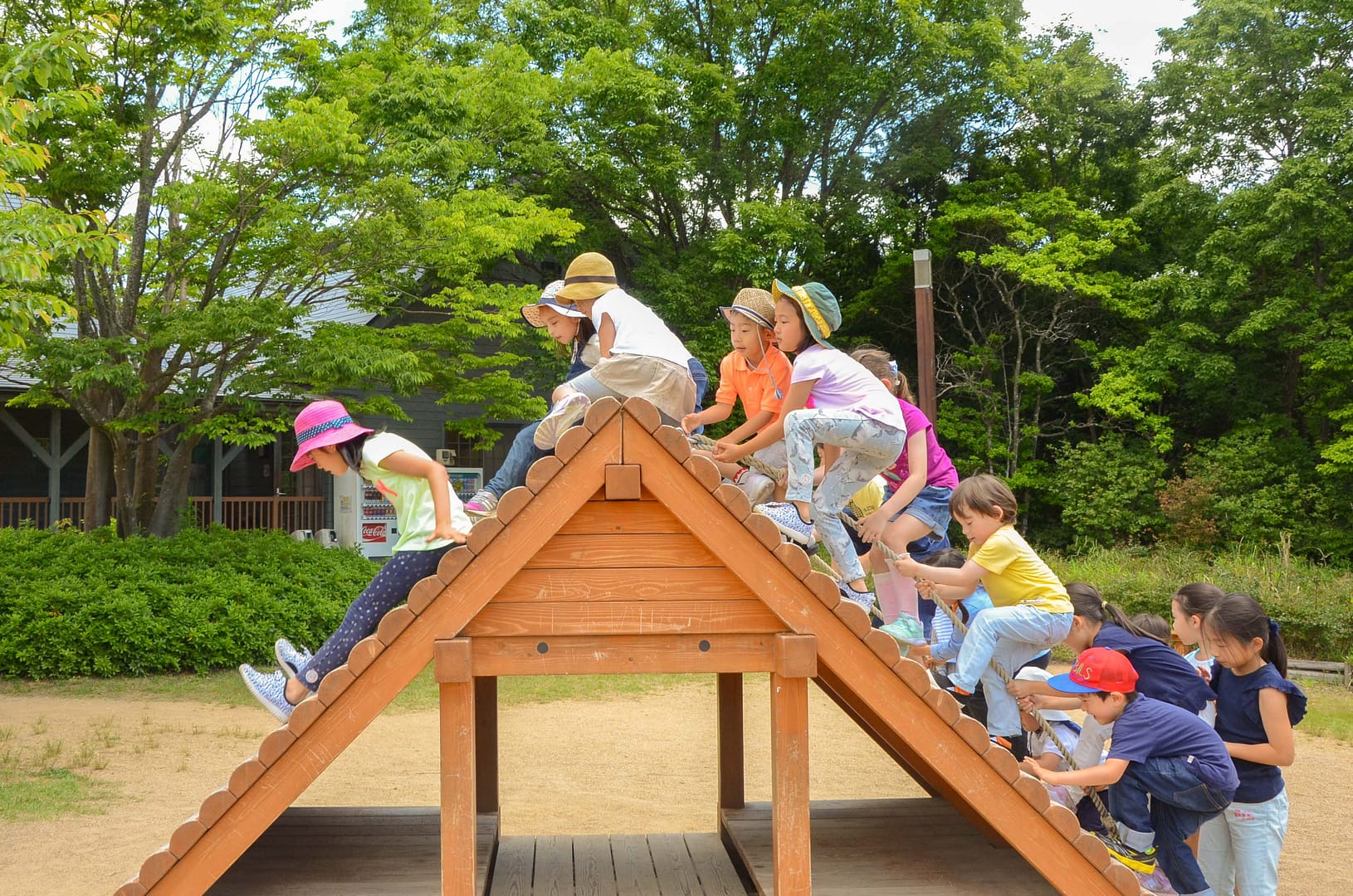 Bus to School
On Saturdays we run a free bus around the Tarumi, Shioya, Seigencho, Myodani, Gakuentoshi, and Maiko area. The bus fills up quickly, so apply early. The bus is sometimes available on weekdays depending on demand.
A huge library and online content too!
The biggest English library of books outside of full-time international schools in Kansai, children can borrow up to six books at a time and we are constantly adding to our library at student request and to reflect students' interests. So our children read, read, read… We also intermittently join online classrooms like RAZ-kids (currently) and Kids-Phonics.
Communication with Parents
We talk to parents after class or by email when appropriate. We let you know about your child's successes and also their challenges. We have extensive annual reports and parent-teacher meetings. Children receive a level based on the Common European Framework (CEFR) so parents can track progress. We also take videos and photos of the children and post to closed Facebook groups. We post homework assignments and news to CodMON which updates parents on what's happening at KOBILS, so you can always keep in touch with us and support your child's learning.
Successful international placements
We have successfully placed children in US boarding schools and international schools in the UAE, the U.S. and Japan. All children have enjoyed a seamless transition and their academic abilities have been remarked on as impressive!
Test success without explicit test preparation
We do not explicitly prep students for exams but the students that take them do well anyway. We encourage children to take Cambridge Young Learners tests and PET and KET for schools which provide communicative and literacy testing specifically designed for children. As a guideline for EIKEN, Japanese and mixed race children are usually ready for EIKEN 3 at the end of grade 1-grade 2, pre-2 by the end of grade 2 – grade 3 and EIKEN 2 by grade 4 – 6. Some children are faster, some are a little slower. Test success is a result of being able to apply skills taught in class rather than wasting valuable English learning time on test preparation classes.
Critical Thinking and Discussion
Our children can not only speak English well, and pass tests, but they can perform in a regular, native-level classroom. They can answer questions in sentence form, and they also understand how to structure and write paragraphs and essays, have good spelling and punctuation skills, and can discuss and argue their point of view.
Regular Performance Day
In February of each year our children make presentations, perform skits and/or sing for parents. You can see how their English is progressing.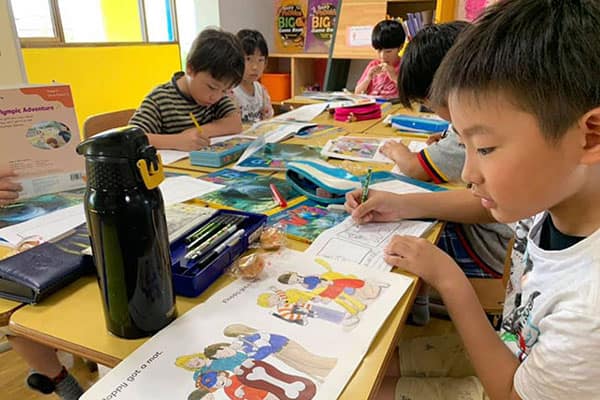 Junior High School and High School Success
The children we started teaching in 2005 are now in Junior High School and High School and many are still attending KOBILS! They are doing well in juken and in JHS and HS tests. They recognise the difference between English studied for high school and English taught at KOBILS and are able to apply what they know and maintain perfect or almost perfect test scores, despite the differences in focus. To date, students have joined Suma Gakuen, Nagata, Fukiai specialist English program and Konan Boy's School among other schools. We have had one JHS graduate who came second in the All Japan English High School Speech contest, and another has represented Kobe in Australia after beating out other children from junior high schools across Kobe. Most children have passed EIKEN 2 kyu by first grade JHS and pre-1 kyu after that.
How Can My Child Join?
Applications open in September the previous year for the grade one program starting in April the following year. We encourage early enrolment to ensure you get the best class choice. We also have rolling enrolment where places are available. Make an appointment or just drop by the school on a Saturday morning to get an idea of the flavor of the course and the academic content and atmosphere. We're always happy to meet people as excited and interested about learning as us.