Ko-News Express 1 En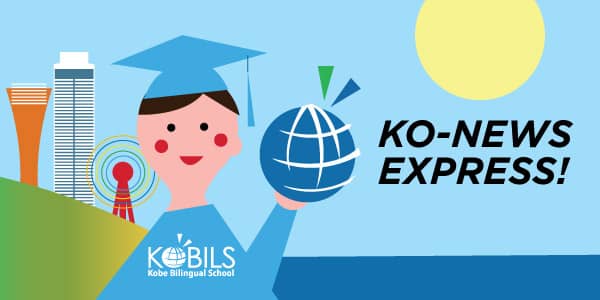 Welcome to Ko-News Express, the mail magazine of Kobe Bilingual School (KOBILS).
Thank you for signing up! If you are still considering KOBILS for next year, sign-up is open until October 28. Interviews will be held October 31 – November 9 and a confirmation meeting will be held on November 12 before registration fees are due.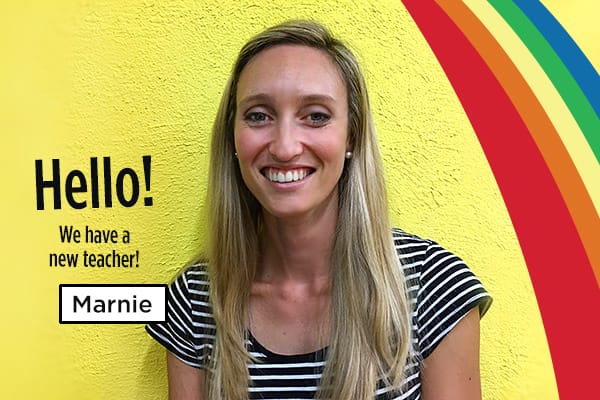 Meet Marnie Lyon, next year's first grade teacher
When and why did you come to Japan?
I stepped off the plane in March this year for my fourth visit to Japan. But this time would be different; I wouldn't be gorging myself on amazing Japanese food for two weeks (OK, so that part might have been a small lie) before boarding the plane back home. No, I had fulfilled my 2-decade long dream and moved to Japan! From my first visit to Japan at age 14, I was hooked, not only by a fascination with the food, customs and beautiful landscapes, but by the warmth and kindness of the Japanese people. I have loved exploring my local neighbourhood of Momoyamadai and the larger area of Kobe. My husband and I are also looking forward to taking a trip to the snow sometime in winter. Coming from northern Australia, we lack experience with cold winters and snow!
What attracted you to the job at KOBILS?
My initial thoughts of KOBILS were based on the webpage when I was first seeking employment. I was immediately drawn to how happy the children looked in all of the photos and after working here for 6 months, KOBILS' emphasis on happiness in all aspects of a child's life (social, emotional and academic) is overwhelmingly evident. I also love KOBILS' view that English should complement Japanese, rather than replace it.
Where did you teach in Australia?
After completing my Bachelor of Education in Primary/Middle Schooling at the conclusion of 2009, I received my first posting in early 2010 at Clifton State School, a small school about 2.5 hours drive from Brisbane. With enrolments standing at less than 150 students, all classes were composite (multi-age levels). After 12 months there, I was offered a permanent teaching position in Tieri, a small mining town 12 hours drive from Brisbane (and still in the state of Queensland!) Again, most classes were multi-age and for the last 5.5 years, I taught across the years levels from Prep (4 years old) to grade 7 (12 years old). I also had the opportunity to teach some specialist classes in music and art.
What do you like about the CfE? 
I am very excited about using the CfE in the elementary school because I appreciate the emphasis on the holistic development of the child; social, emotional and academic. In our ever-evolving world, it is more important than ever that we equip children with the skills they will need to be active contributors to their future society. I look forward to playing my role in developing critical thinkers who use initiative and problem-solving skills to navigate the unknown waters of tomorrow.
What do you like doing in your free time?
When I'm not at work, I love to explore my local area, try new foods and learn the Japanese language (which can be simultaneously enjoyable and frustrating!). I've recently started running in an attempt to maintain some acceptable level of fitness and I also enjoy playing the piano and crocheting.

Application procedure for entry to KOBILS International Elementary School, April 2016:
We have received applications for grade one and grade two, so encourage children from both these grades to apply. Several parents have expressed concern about the numbers of children enrolling in the first year at KOBILS. As a result, we have decided to suspend payment of entrance fees until the end of the second application/interview period. At that time parents will be able to confirm how many students have submitted the preliminary application to enter the school and decide whether or not to finalise their application.
The application process is happening now, and important dates are approaching!
Friday October 28: Download application form, fill in, and send to office by Friday October 28, 17:00. Applications may be scanned and mailed, faxed or delivered by mail or hand.
Monday October 31: Wednesday November 9: Interviews will be arranged as follows:
Parents and staff discuss entry/answer questions
English classroom teacher and child: interview and short reading and writing test.
Japanese classroom teacher and child: Interview and short reading and writing test.
Please note: In general all children should have a good level of conversational English and be able to ask and answer questions. The Japanese interview is held to get to know the child and assign children to JSL classes if needed. The English/Japanese reading and writing test is for diagnostic purposes only and does not affect the decision to offer a place at the school. Children will be contacted within three days of their interview.
Saturday November 12 (16:00): Meeting at Momo Park for all applicants. Information session about the school. Chance to meet other applicants.
Monday November 14 – Friday November 18: Payment of entrance fees and confirmation of place.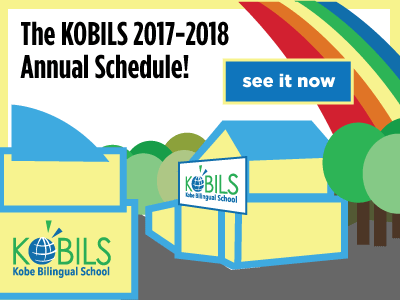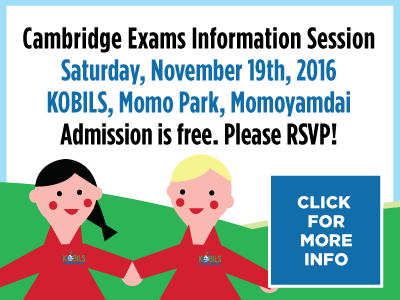 Oops! We could not locate your form.