Kobe Bilingual School
HOME | KINDERGARTEN | ELEMENTARY | SUBJECTS | FAQ | COMPARISON | FEATURES | FEES
KOBILS  Elementary FAQs:
Does using CfE mean my children will spend a lot of time learning about items specific to Scotland like Scottish history, Christianity and British currency?
No. Adoption of the CfE does not mean wholesale adoption with no changes. Clearly it is adapted for our context as a bilingual and international school located in Kobe, Japan.
We look a little at Scottish history, but only as part of world history; we study about Japan, the US, Europe and others too.
Children will learn about Japanese currency first and foremost and how to identify coins, make change and use Japanese money as well how to use electronic money. After that we look at other monetary systems which reflect the backgrounds and interests of the children in the school in an ongoing project based approach.
CfE provides for the studying of world religions and ethics. We look at Christianity as one world religion, but aim to spend time looking at a number of religions with equal weight. We also draw from the Japanese social studies and ethics curriculum. One unique feature of KOBILS is that children entering the school may submit ideas/requests for learning about customs and holidays that are important to them and reflect their ethnic backgrounds. In this way we hope to make KOBILS a truly multicultural school.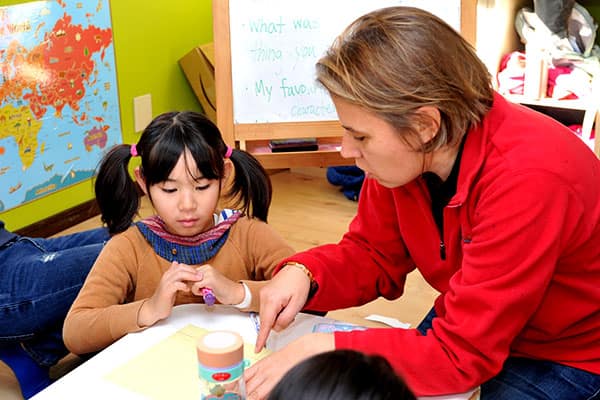 How is Japan's Kokugo, social studies and ethics curriculum reflected in Japanese classes? How about other learnings from Japanese schools?
KOBILS maps the learning from Japanese shougakko to compare it with through CfE. We use the same textbooks as are used in some elementary schools for Kokugo, though children may progress through them more slowly or quickly than in elementary school. KOBILS also has translations of social studies textbooks so it can inform our planning and be used when appropriate. In this way children do not miss out on important local education opportunities by being at KOBILS. KOBILS offers "kyushoku" or school lunch. This is a freshly prepared Japanese style meal with lots of vegetables offering a proper nutritionally balanced diet. Children assist with serving lunch in a Japanese style and learn about exactly what is in their lunch and how it benefits them.
KOBILS has a short time at the end of the day for classroom cleaning.
Is KOBILS accredited?
Kobe Bilingual School is a free school, but will apply for accreditation from the Western Association of  Schools and Colleges (WASC) within three years. We are also looking into Gakko Hojin status as part of our initial five year plan. During our initial five years we aim to acquire land and build our own school in the Tarumi area. Gakko Hojin status will not be available even as a consideration until we have made that move. Of interest is the ongoing debate in the Japanese Diet about recognising free schools and homeschooling as compulsory schooling by April 2018. We will keep you informed of our progress towards accreditation.
How does the CfE compare to other international curriculums?
A comparison of CfE with other international systems shows that CfE provides for more content learning and cross curricular learning than some other curricular and is learning rather than assessment driven. However most content is directly transferable to other educational systems throughout the world. Remember, in elementary school children are building basic learning skills and acquiring an elementary understanding of curriculum subjects. All curriculums spiral content throughout the years. Realistically, while math is built in a quite linear fashion, other subjects are not studied and learned one time forever but provide a foundation for more learning.
This is a big reason why KOBILS subjects are often cross curricular. Literacy, numeracy and health and well-being span the curriculum. For example, English is scheduled next to art and social studies, so that projects can be built across the three subjects. Math is scheduled next to life skills because in life skills children are learning about financial planning. Ethics is planned first thing Monday morning back to back with homeroom time, so children can come together on this first day of the week and consider aspects such as how to be good friends, the importance of good manners, thinking of others, as well as lessons from different religions. Similarly curriculum review is at the end of the week and time can be spent reflecting on how to be a good learner, how to help others learn and making plans for the following week.
In addition, KOBILS children are encouraged to read widely, and we have a large and varied library, plus subscriptions to Raz-Kids and Bug Reading, which allow children to both build their literacy and improve their content knowledge. KOBILS children can take home up to 4 books at one time; these can be changed at any time. There is a level specific library in each classroom spanning several reading levels, as well as a central library for non-fiction, cross curricular and level non-specific books.
HOME | KINDERGARTEN | ELEMENTARY | SUBJECTS | FAQ | FEATURES | FEES